Two New Fonts, ABC Inventory Analysis in Online Stores, Zero Block Features, and Other Updates
New Fonts from Type.today
Graphik and Druk Text Wide fonts have been added to the library. You can use them for any Tilda project at no extra cost.
Graphik

Versatile and multipurpose sans serif typeface. It is suitable for both expressive headings and body text.
Druk Text Wide

This rough, expressive typeface is great for creating a distinctive accent. Use it to create striking statements with typography.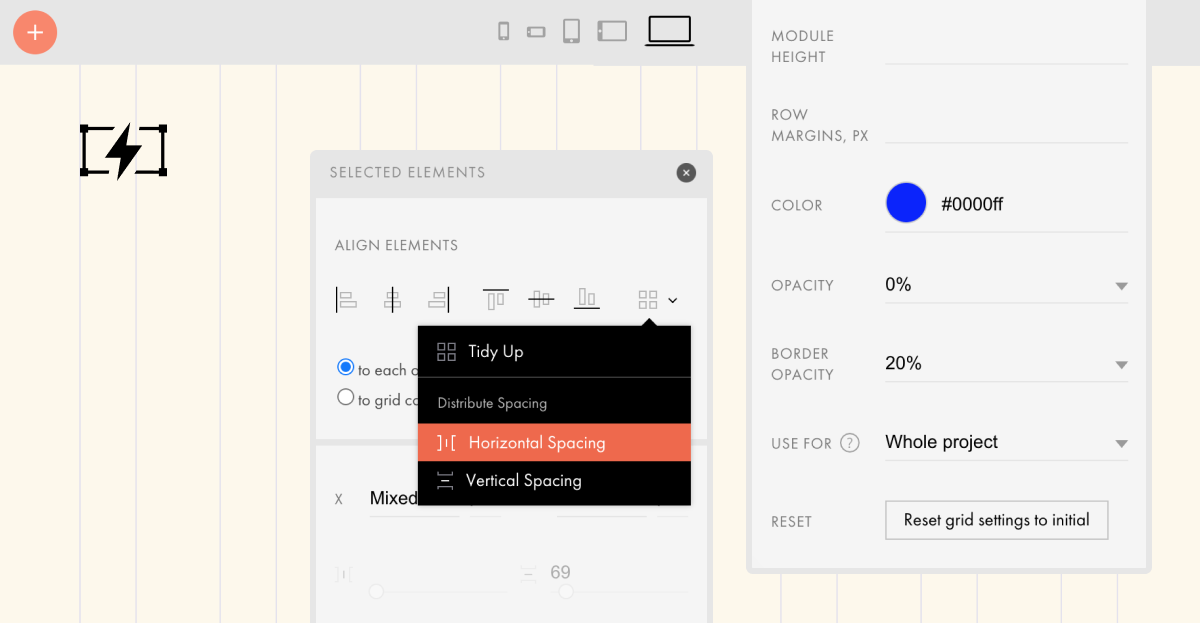 Zero Block Updates
Flexible configuration of the modular grid, horizontal and vertical alignment of elements, and moving the workspace with the mouse while holding down the spacebar. See details below.
Modular grid settings

You can set any number of columns, column widths, column gutter (spacing between columns), indents, line colors, and other parameters. The settings can be applied either to a single block or to the entire project.
Aligning the distance between elements

If you select multiple elements, you can set the vertical or horizontal spacing between them. The settings are located in the new panel under Align Elements.
Moving the workspace with the mouse

You can navigate the Zero Block workspace with the mouse while holding down the spacebar.
New Features When Adding Custom Fonts
| | |
| --- | --- |
| | Extra Bold and Black Weights |
You can now upload Extra Bold and Black custom font styles to your projects in Site Settings.
Now you can upload a variable font which is a single file with information about all possible font weights.
All modern browsers
support this format. The format will help you configure typography for your project in a more flexible way.
Font files can be optionally uploaded in WOFF2 format which is a new format for delivering web page fonts on the fly. WOFF2 font files are about 30% lighter due to enhanced compression. The format is supported by
some browsers
, so we recommend using it along with WOFF.
To check out the updates, go to Site Settings → Fonts and Colors → Custom settings → Your Own Font → Upload font files.
ABC Inventory Analysis in Online Stores
In Online Store Stats, you can enable ABC analysis and find out which products generate the highest revenues. The system analyzes the cost and quantity of the top-selling items and displays information about which items give the maximum result as a percentage. Plan and shape the product range of your online store based on data.
Facebook Conversions API is a tool that allows you to transfer visitor data directly to a Facebook server, bypassing the browser. This kind of transfer of events to Facebook Pixel improves the quality of advertising campaign tracking. For Tilda websites, the pixel receives submissions data from online forms and shopping cart payments.
To the guide →
| | |
| --- | --- |
| | Managing ads.txt and app-ads.txt files |
The ads.txt and app-ads.txt files are necessary if you need to specify an ad network or authorized digital content vendor that sells ads on the website or app.
New Templates for Your Projects
Agency

Black background, big white typography, bright green accents, and minimalist linear illustration.
John Doe

Combination of several bright colors, lots of photos, creative layout.
#madeontilda
: Top Projects Created by Our Users in August 2021
DigitalArt4Climate

An initiative that turns art into digital assets to accelerate sustainability and climate action
Mono no Aware

A film by Koushik Sarkar about the ephemeral nature of things
Ins Freie!

German open-air festival summer program
Windblick

A personal website of an urban artist based in Zurich
Turkdoctor

Online medical consultations with doctors in Turkey
Stingrate

An independent senior consultant based in Hamburg
How-To Webinars on Web Design
Check out the upcoming webinars. During each webinar, we create a website from A to Z in front of your eyes, comment on it, and share our insights and tips on web design.
Tilda Referral Program
Invite your friends to join Tilda by sharing your unique referral links and get a bonus for every successful referral.
You are subscribed to the Tilda Newsletter because you agreed to receive our monthly news digest when you signed up for
https://tilda.cc
If you no longer wish to receive our newsletter, click
UNSUBSCRIBE