Tilda 2021. Year in Review
Massive updates in Zero Block, signature typeface Tilda Sans, new templates and blocks, updates in CRM and online stores, new statistics, and much more for your Tilda projects.
Zero Block Updates
Tilda's web design editor is now even smarter and faster. We added more than 30 new features and optimized the workflow speed. Here are the details.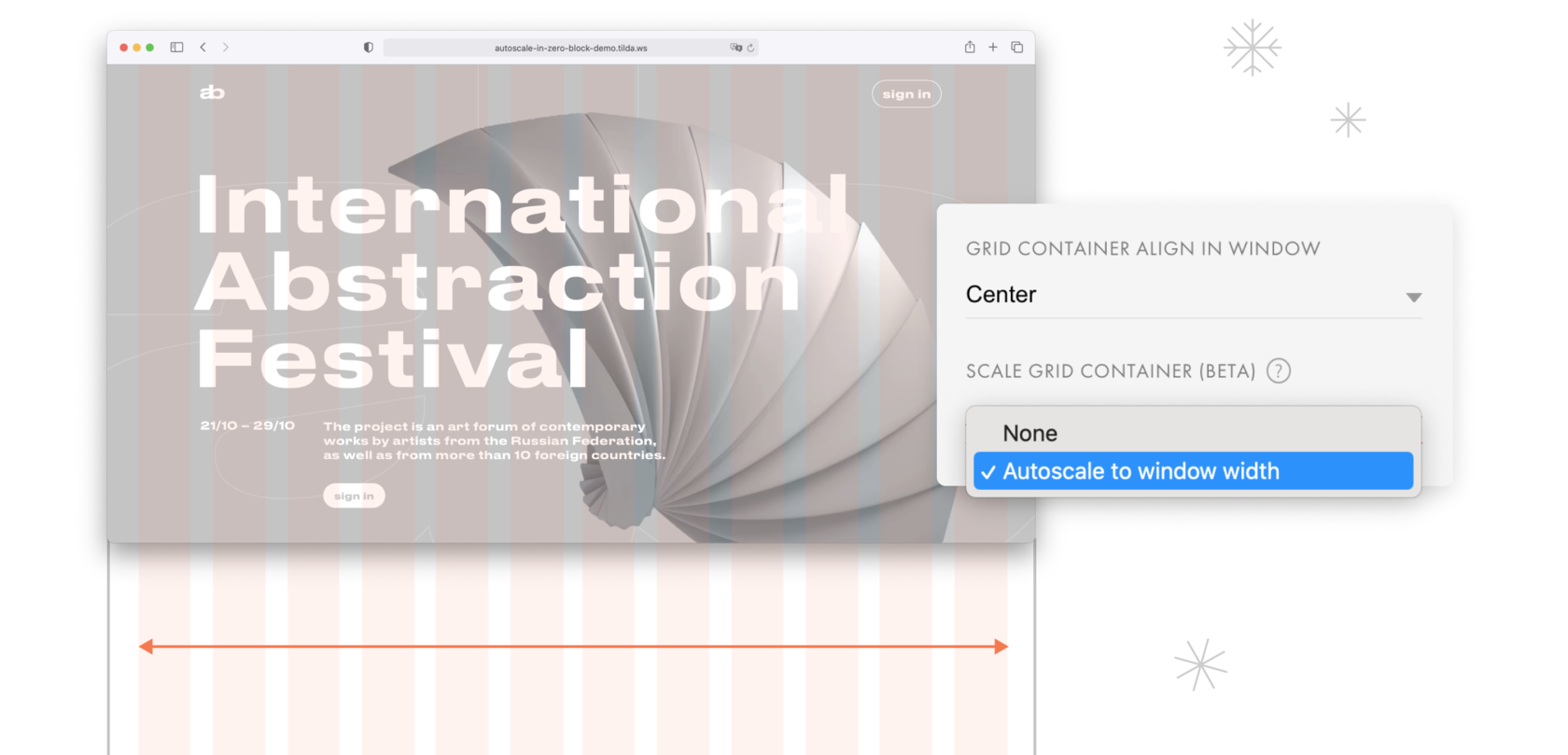 Automatic Scaling to Screen Width
Websites can now be automatically scaled to 100% of the browser window and become responsive to any screen resolution including huge HD screens. Designers don't need anymore to manually create fluid layouts.
Learn more →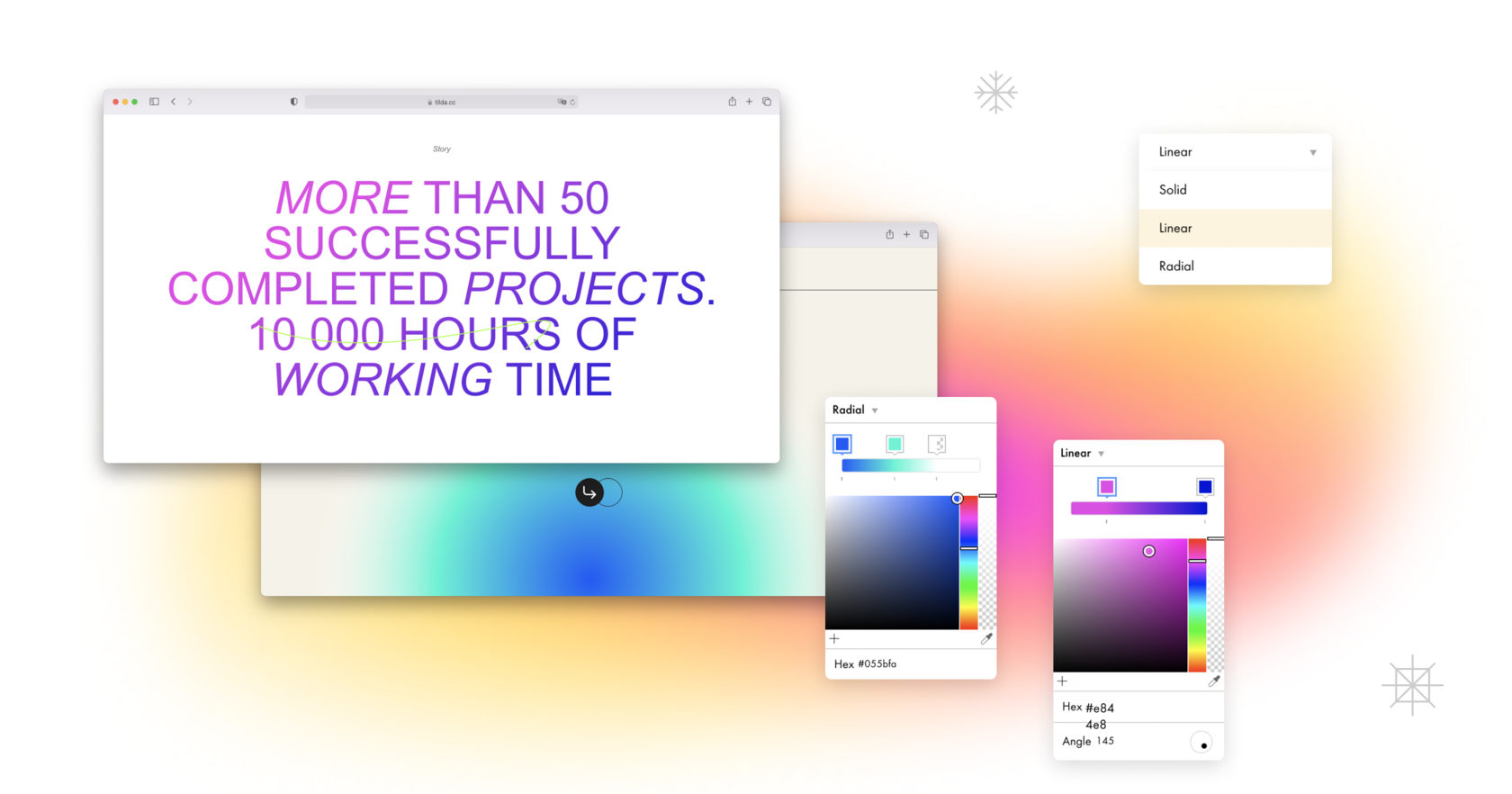 Gradients
Choose a linear or radial gradient, add it to the text, shapes, buttons, background, and other elements, and create unique designs for your websites!
Discover more →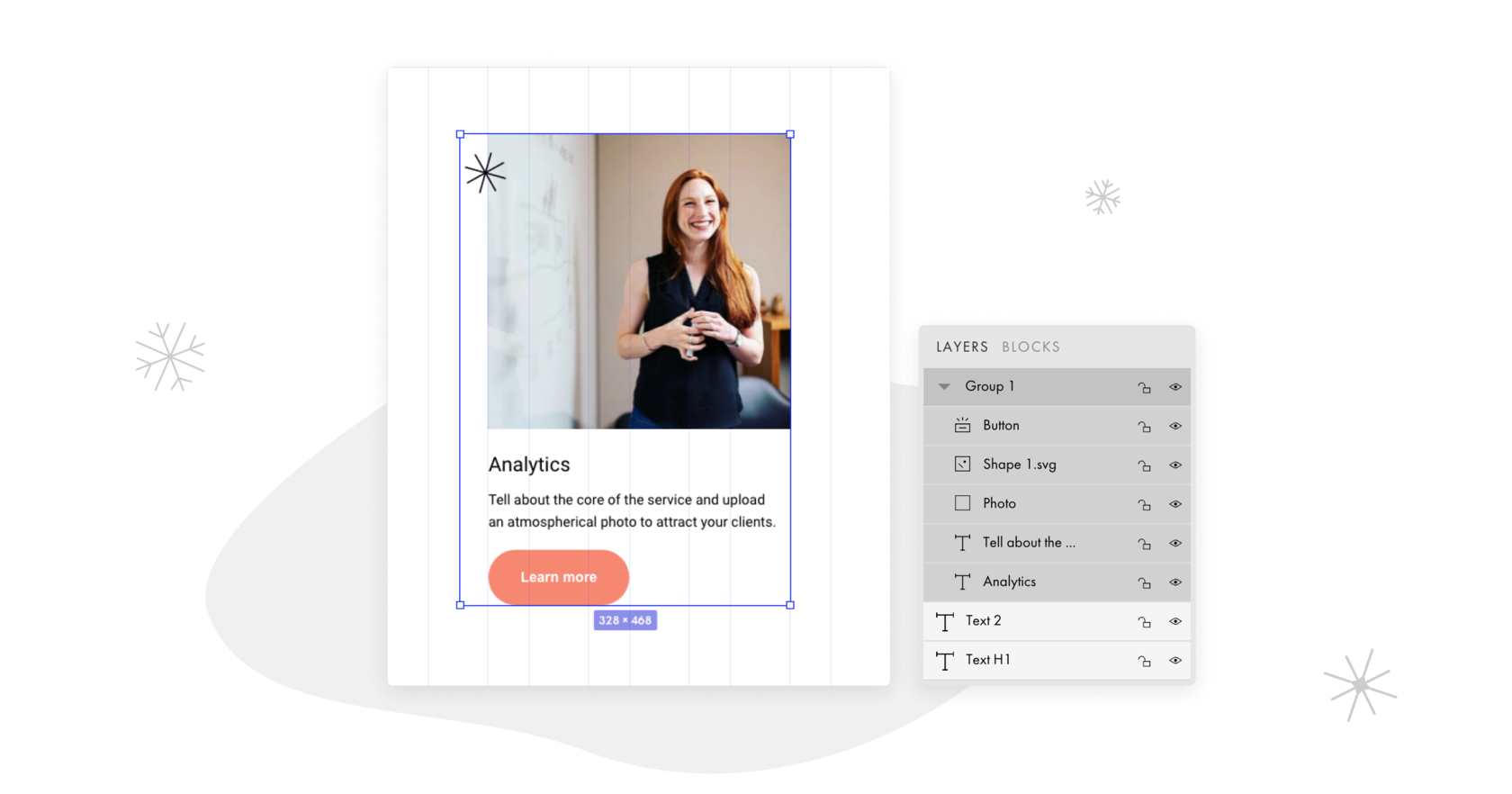 Layer Grouping and Multiple Element Settings
Combine layers into groups to simplify your design process. Change the size of images, the color of shapes, lock groups of elements to work only with the top layers, and more.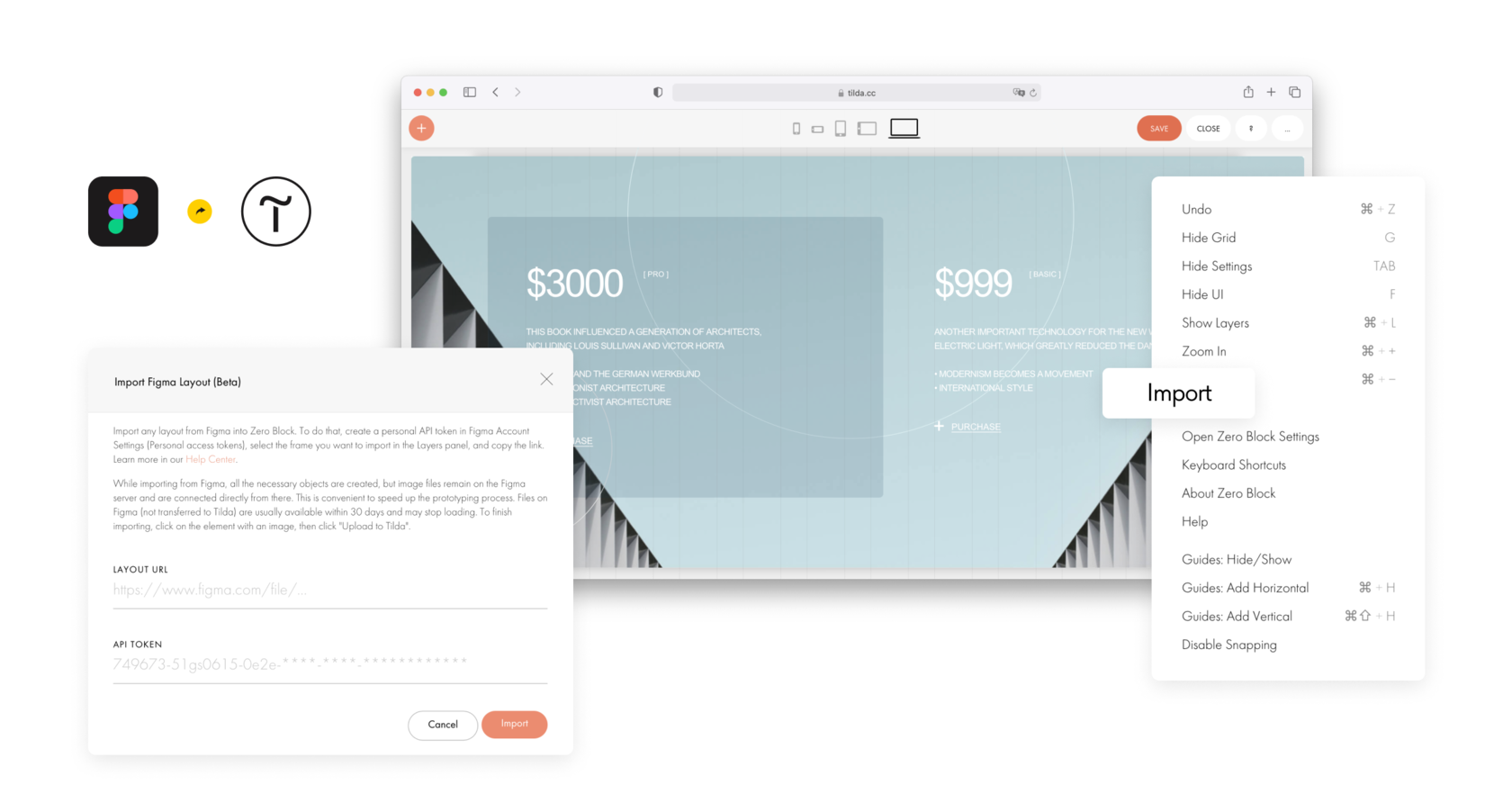 Import of Designs from Figma to Tilda
Transfer layouts from Figma to Tilda in three steps: Prepare the layout, get the API token in your Figma account, and import the layout. Adapt it to different screen sizes, publish the page, and your website is live!
eCommerce Updates
Make the most of Tilda's new tools for online stores.
| | |
| --- | --- |
| | ABC-XYZ Inventory Analysis |
The ABC-XYZ summary table in the online store statistics allows you to see the fluctuations in demand for goods throughout the year. Relying on this data, you can reduce the uncertainty and grow your business based on analytics.
| | |
| --- | --- |
| | Saving Contact Data for the Next Purchases |
The option allows your customers to save the contact info in the browser. When customers make new purchases, the data is automatically filled in on the order form.
Place detailed information about each product or related service in tabs on the product page. You can add multiple sections as tabs or drop-down cards.
Tilda Sans. Free Variable Typeface
Tilda Sans is Tilda's signature typeface. It is a variable typeface with an open license, which means that all platform users can apply it to their commercial projects for free.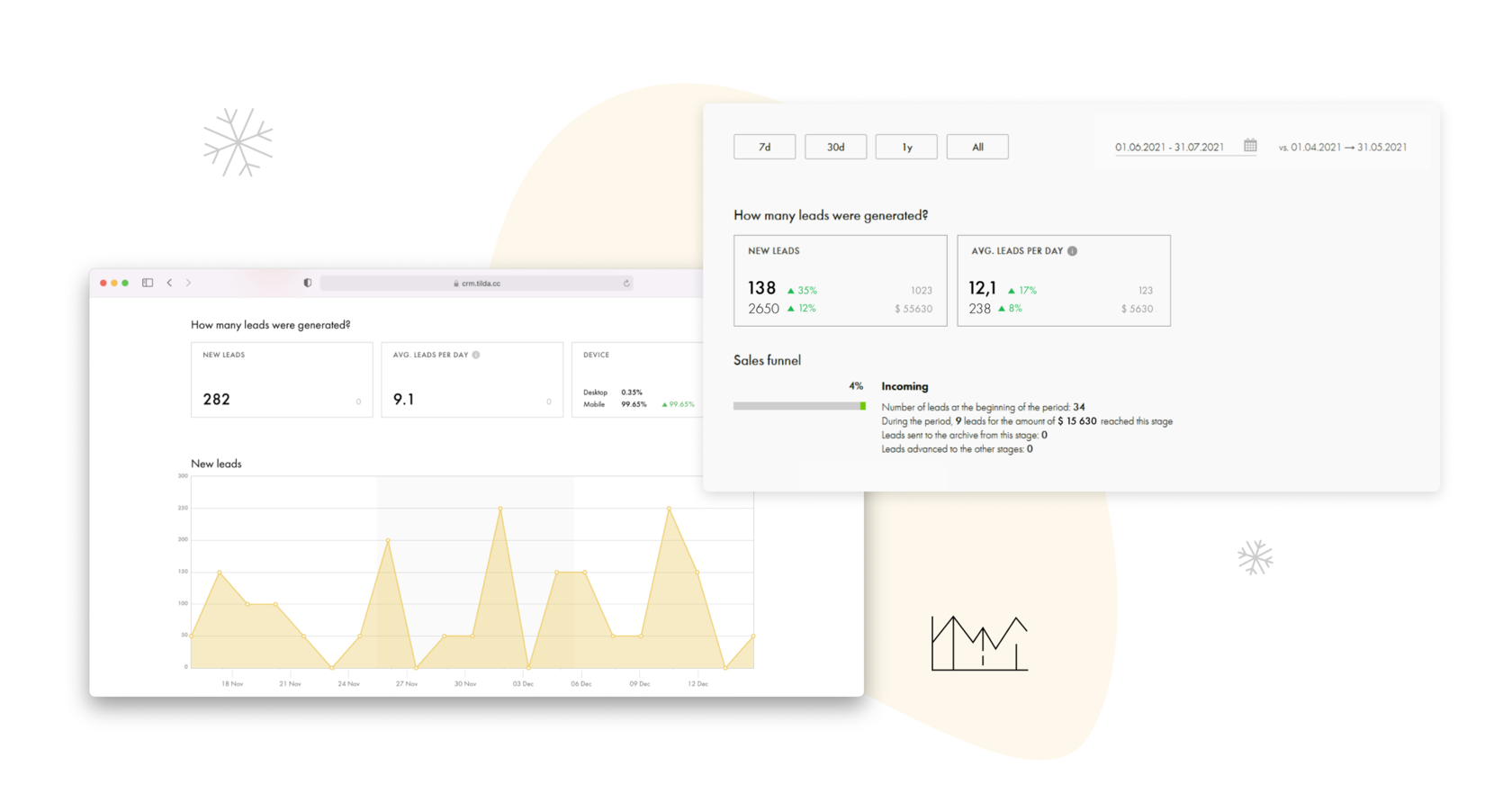 Statistics in Tilda CRM
Keep track of your customer performance in the Statistics section. In the section, you can see how many leads were generated, an average number of leads per day, device type, and lead sources.
Pro. New Template Collection
Meet the experimental collection of templates built on Zero Block with non-standard layouts, creative use of typography, and animation effects.

Adapt Pro templates to fit your goals, modify every detail in the blocks, and delete the unnecessary ones. Designed for advanced Tilda users.
New Blocks
There are now 580+ blocks available in 30 categories. A bunch of new pre-designed customizable blocks was added to the "Form and Button," "Menu," "Cover," "Gallery," and other categories.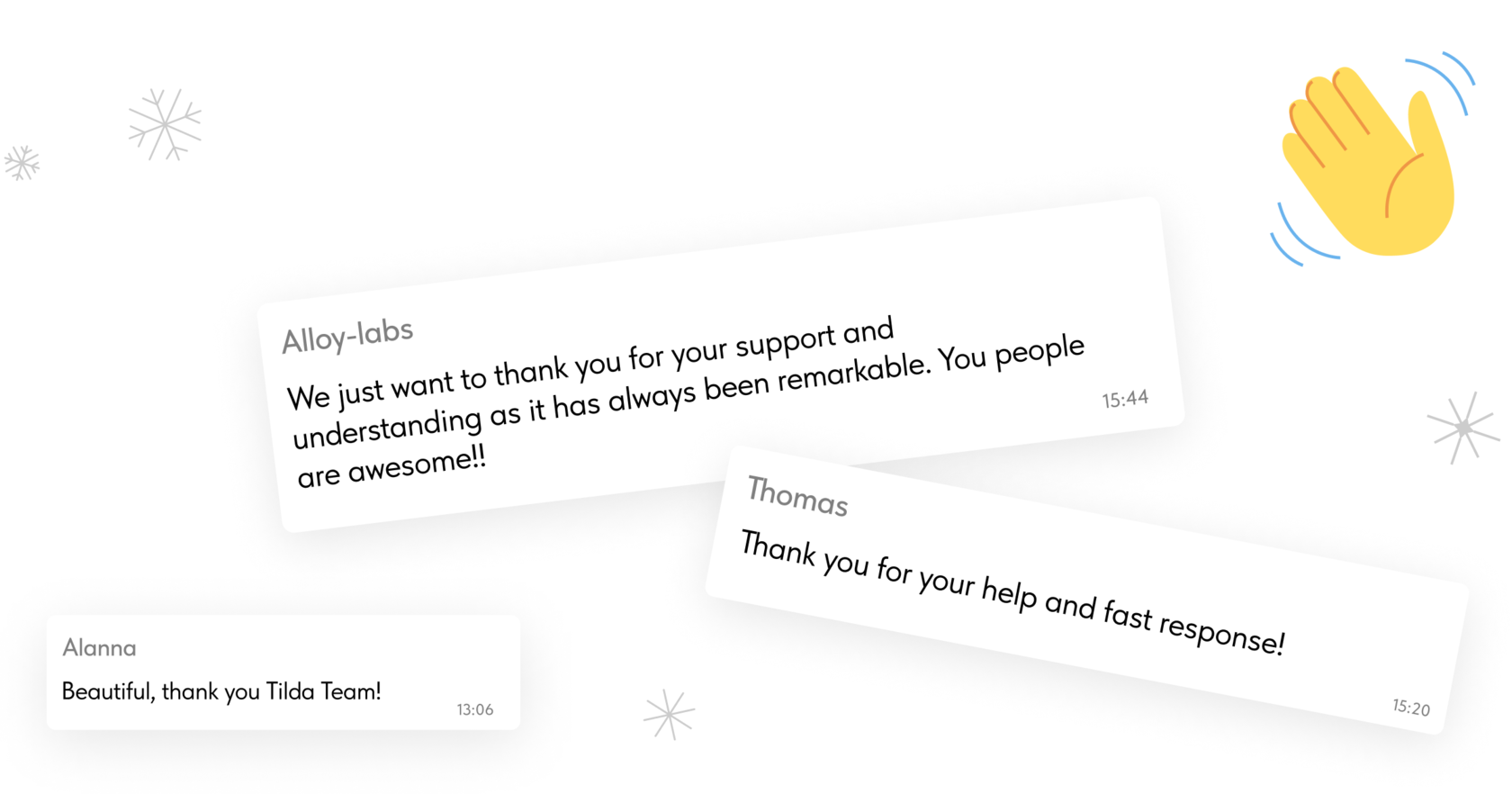 Customer Support
This year you have sent 200 000+ requests. We did our best to help with every one of them. Your questions get more challenging every year as the platform's possibilities grow. We're always happy to help you with all Tilda features and services. Thank you for getting in touch with us!
Grants for Nonprofit Organizations
We're trying to make the world a better place and support nonprofit organizations around the world. This year, 170+ organizations received free annual subscriptions to create their websites on Tilda.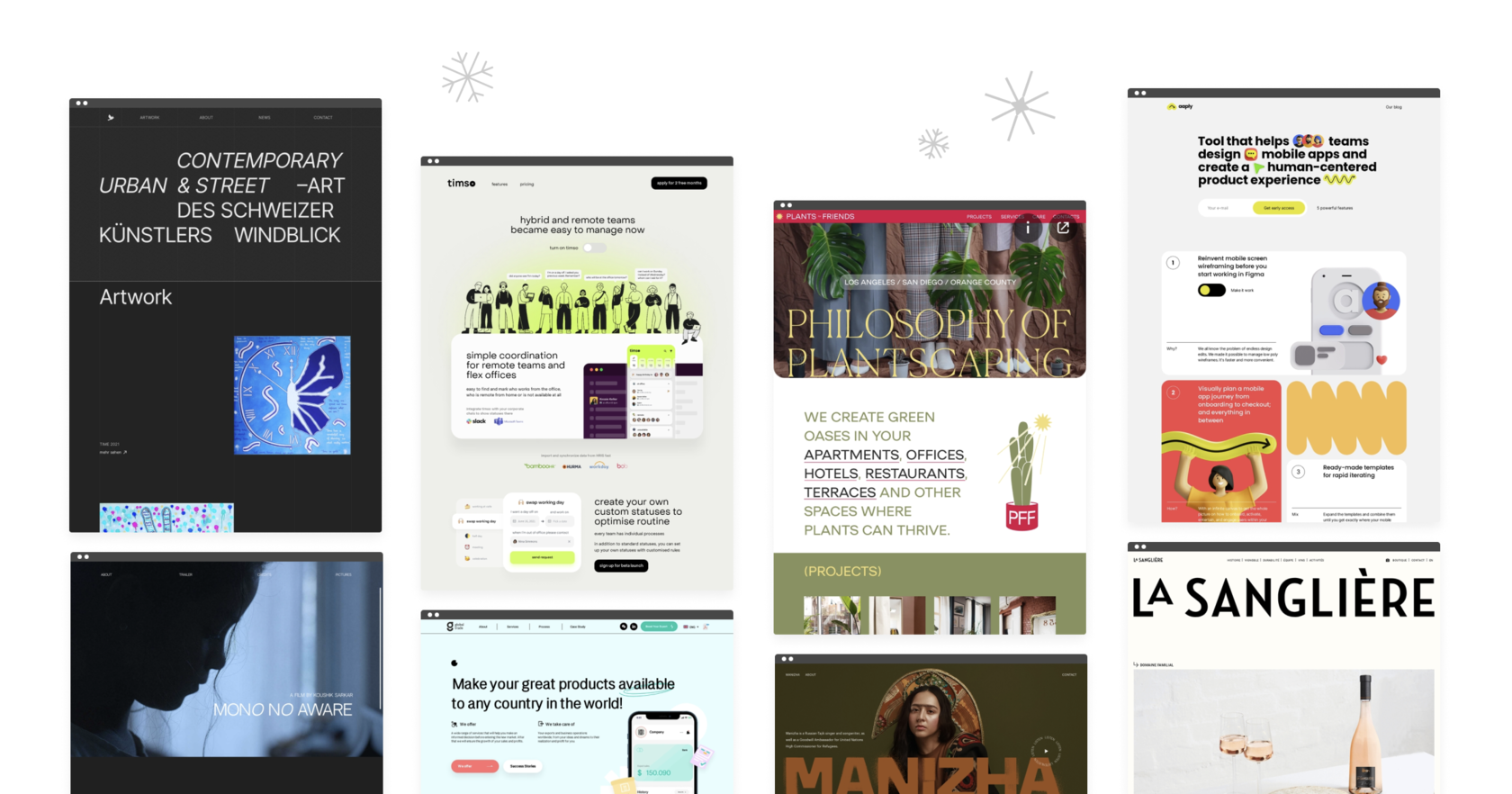 #madeontilda Website Gallery
This year you submitted 12 500 websites to the gallery of the best Tilda projects. It's a new record!

By being featured in the gallery, websites get additional traffic. Designers find new clients, and landing pages and online stores attract new customers. This year gallery visitors clicked on the gallery links 2 450 000 times.
Free Education Resources
In 2021, we launched Tilda Education, a learning resource with guides and courses on web design and digital marketing. Thousands of people are learning to create stunning websites that convert, and effectively promote their projects online.

Also, on our YouTube channel, you can now attend live web design webinars and quickly learn how to create all types of websites, from landing pages and online stores to personal brand websites, etc.
Awesome Content Every Day
We publish new and existing platform features, create how-to animation guides, explain design styles and techniques, select color and font combinations, and much more to help you create your best project.

We read all your comments. Based on your feedback, we select topics for future posts to make sure our content is relevant and useful for you. Thank you for commenting, saving, liking, and mentioning us in your posts. We are very grateful that you are with us!

Do you remember all the Tilda features that came out this year? Let's check it out!
Your Favorite Posts in 2021
Do what you love, launch new projects, and grow professionally. And we'll be there to empower
and inspire you.
Thank you for being with us!
See you in 2022!
Tilda team with
♥
You are subscribed to the Tilda Newsletter because you agreed to receive our monthly news digest when you signed up for
https://tilda.cc
If you no longer wish to receive our newsletter, click
UNSUBSCRIBE