Tilda. Year In Review 2022
Online course builder, advanced interface mode, new eCommerce features, block & CRM updates, and more for your projects on Tilda.
Online Course Builder
The new tool allows you to create online schools for a wide audience or smaller groups. A variety of content formats are at your disposal: Videos, live streams, articles, tests, and homework. An assigned tutor will check homework and grade it, and will be able to communicate with the student in the comments.
Advanced Mode
Advanced interface mode is available for projects with 20+ pages. Search, sorting, and bulk actions with pages are now available. Lists of pages and project cards are reduced in size making navigation easier. Page URLs are displayed in a separate column for clarity.
Learn more →
My Blocks

You can create your own design system in the account with the new "My Blocks" feature.
Favorites

You can save blocks in a "Favorite" category and quickly access them in the Block Library.
Available Dates In Online Forms

Available date adjustment in online forms. You can use it for both standard blocks and Zero Block.
Flexible Search

In blocks T838, T985, and ME901 you can set search by Feeds, products, or entire website
Styles & Sizes For Mobile Hamburger Menus

For the mobile hamburger menu, you can choose from four styles and set their size.
Price Per Unit In the Product Catalog
It's now possible to sell products in kilograms, liters, meters, and other units. You can specify the price per unit and smallest sellable quantity of the product, which is a portion that's used to calculate the quantity of product in the shopping cart.
Learn more →
Fullscreen Shopping Cart With an Order Form
A new setting is available for the ST100 block "Shopping cart with an order form." It modifies the display of the cart and divides the purchase process into 2 steps. First, customers confirm the selection of products; second, they fill in contact details. In the second step, the shopping cart is displayed fullscreen.

Where to configure: ST100 → Settings → Multi-step checkout.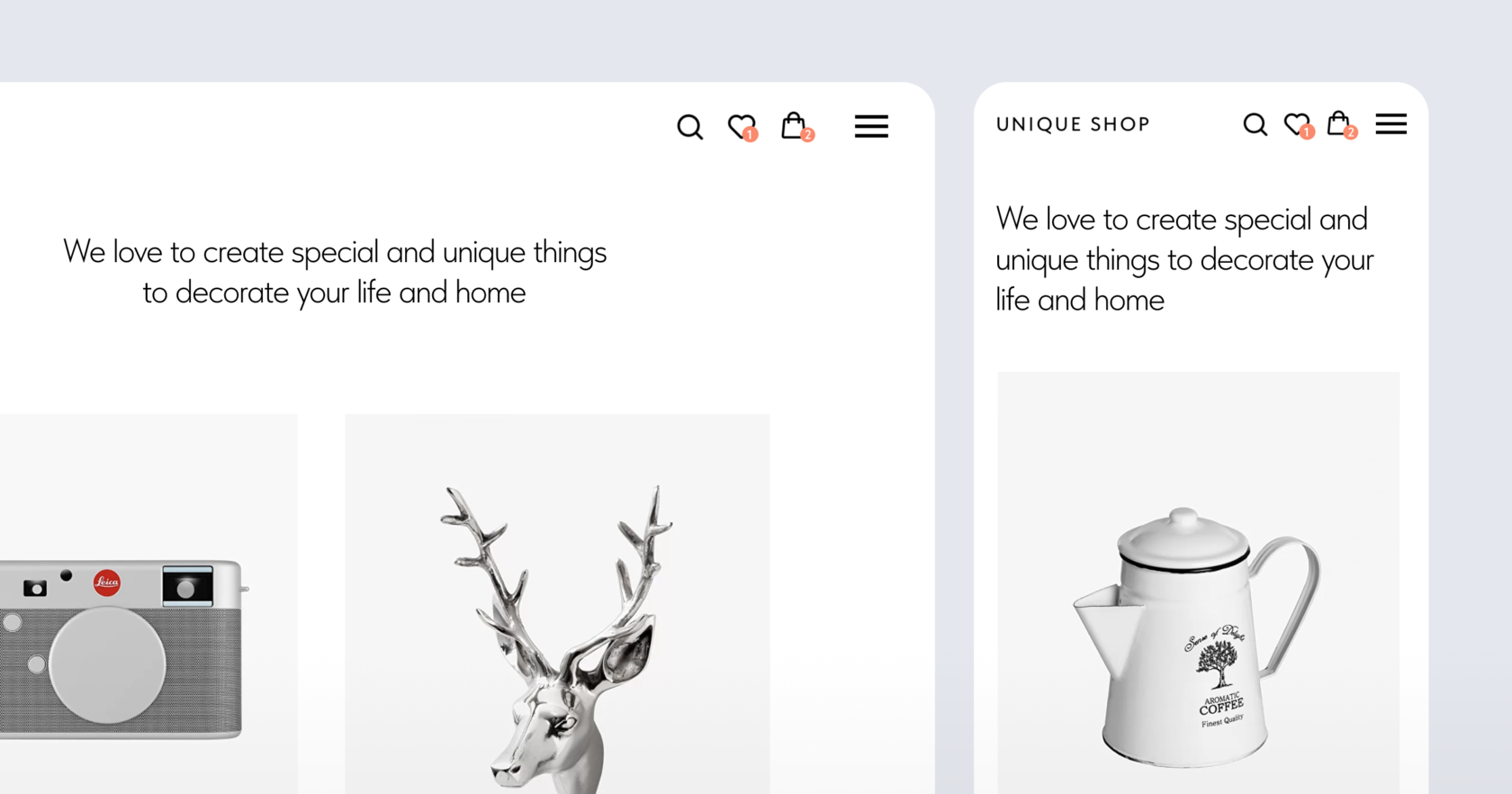 Shopping Cart, Search, And Favorites In Menu
You can now display the shopping cart, search, and favorites icons in the menu blocks instead of separate widgets. The new icons are minimalist and are located in the same place. This feature is available in menu blocks ME4XX.
Learn more →
Tilda CRM Updates
| | |
| --- | --- |
| | 6 new fields and the Trash folder for the lists |
In a list, you can now add new system fields: Products In the Order, Delivery address, Delivery recipient, Delivery cost, Promo code, and Discount amount.

If you don't need a list anymore, move it to the Trash folder. Deleted lists are stored for 7 days before being permanently removed.
| | |
| --- | --- |
| | Searching leads in several columns by date |
If you have several fields with dates, you can now select one for filtering. For example, you have the submission date and the date of the event that the person specified in the submission. You can set up a filter and see data for any of these dates.
| | |
| --- | --- |
| | Lead search by product title |
You can find the leads that contain the required products by using keywords in the search.
| | |
| --- | --- |
| | Move data between columns |
Data can be transferred or copied from one column to another. To do this, Open the list → Settings → Fields → Edit Field → Move Data.
| | |
| --- | --- |
| | Lead transfer between stages |
The lead transfer now considers the filter set for the list. For example, you can filter out leads by date and move the right customers to the next stage.
Broken Link Checker
Check your website or web page for broken links with the new Tilda Broken Link Checker.

Broken links reduce the quality of the user experience. If there are many broken links on the website, it has a negative impact on SEO. To keep links on your website in order, use a free service to find broken links on your website or web page.
Multilingual Help Center & FAQ
You can now browse Tilda's Help Center and Frequently Asked Questions not only in English but also in Spanish, German, French, Portuguese, Italian, Polish, and Japanese.

To switch between languages, use the widget button. Current translations are performed by AI, so feel free to send us your feedback, we'll be glad to improve the quality of texts.
User Support
You have sent over 200 000 questions to our support team, and we helped you solve them all. Every year your requests become more challenging as more features appear on Tilda and your projects become larger and more sophisticated. One thing remains unchanged: We are always glad to help you find the solution.
Grant For Nonprofit Organizations
For several years, every month we choose 5 NGOs and social projects and give them a free annual subscription. This year we received requests from 13 countries around the world.
#madeontilda: The finest web designs made by our customers
This year, lots of online stores were submitted to the gallery, and their designs were more unique than ever. Brands are adding look books and design cards according to their style. There are a lot of websites with digital services, dentists, and other medical specialties. Each long read is a big visual story with its own tone and composition.

By getting into the #madeontilda gallery, websites get additional traffic, designers get new clients, and the web pages and stores get customers.
New Video Tutorials & Expert Workshops
We have recorded a bunch of new video guides to simplify website creation for Tilda users, no matter your level of web design. At the moment, 21 comprehensive videos are available.

Also in 2022, experts from around the world shared their knowledge during the live workshops. All workshops were recorded and are available on the Tilda YouTube channel.
Twits, Reels, #shorts, Carousels...
On social, we shared new features, posted step-by-step guides to creating animation effects, broke down design techniques, showcased websites that you can use in your work, and much more.

This year, we were experimenting with formats and posted more videos. Thank you for responding to our posts, we read all the comments and take your opinion into account when planning new content.

Do you remember all the Tilda features that came out this year? Let's check it out!
Launch your projects, create websites for clients, take your business online. Do what you really enjoy. And we'll support and inspire you.
Thank you for being with us this year. See you in 2023!
Tilda Team with
♥
You are subscribed to the Tilda Newsletter because you agreed to receive our monthly news digest when you signed up for
https://tilda.cc
If you no longer wish to receive our newsletter, click
UNSUBSCRIBE