Before new year is coming we took a moment and recalled what remarkably happens for those who make websites on Tilda. We are proud of how we've applied utmost efforts in work and happy to realize that making a website is more convenient now and websites are more functional and beautiful. Glad to share these great things: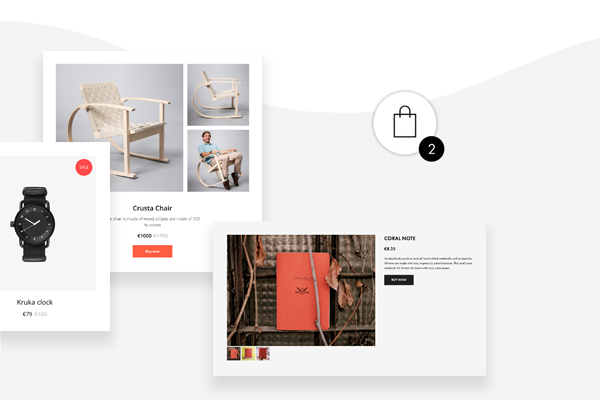 Online Store And Shopping Cart
We've added and updated a lot of tools for creating an online store on Tilda. Activate the shopping cart, check out new blocks in the Store category, choose delivery options, add product information and complementary products.
New Forms
Now all data forms include an unlimited number of entry fields, drop-down lists and checkboxes. What's more, users can confirm actions by ticking a box, choose a date in the calendar or send files.
Keeping Leads In The Account
All data from forms on your website is keeping in 'Leads' section. You still can assign one or several services of data capturing. There are 15 integrated services now.
Email Campaign Builder

Creating email marketing campaigns is now easier than ever ― construct newsletters out of blocks in Tilda. A quick start: just add your content, and your letter is ready to go out into the world.
450+ Free Icons For Business
The icons are grouped into 33 business themes. Find these icons in the Tilda image library or download them in SVG format.
Embeded Statistics
You can check the statistics of your website right in the site settings on Tilda. Learn statistics of separate pages, which are the most popular, get number of requests, events and analyze UTM-marks.
New Templates And Creating Your Own Ones
There are categories in template library: business, store, events, blog, contacts, survey. We have added a lot of new templates for companies and entrepreneurs. Also you can create a page with your own design and save it for further work.
New Cool Fonts
Futura, Circe, Formular Mediator, Mediator Serif, Geometria, Opinion Pro, Kazimir Text, Reforma Grotesk, Orchidea Pro, Iskra — amazing paid fonts are free for Tilda users.
Tilda-Webmaster's Console
Are you worried about how your website is indexed and ranked by search engines? Us too! Use it to add your website to Google, spot errors that affect the indexing of your website and test it site against basic recommendations from search engines.
DDoS-Attack Protection
DDoS-attacks — treat of modern internet. We care to keep your business safe — all website on Tilda are protected with special equipment that created to work under constant a lot of DDoS-attacks.


New Year's Resolution is don't stop. There will appear a lot of interesting things next year — something long-awaited and something surprising. Thanks for being with us!
♥
Your Tilda Publishing Team
♥
You subscribed to the Tilda Newsletter because you agreed to receive our
monthly news shot when you registered your email on
https://tilda.cc
.
To unsubscribe, click
UNSUBSCRIBE